Anji Jordan and Itty 1994
Anji had her senior picture taken with Itty
They were a team and she misses him very much

As you rest high on that mountain you will always
remain deep in our hearts and minds our Itty boy.
---
Anji worked hard at training Itty. She took him to High In Trial at the Cedar Valley Boxer Club Specialty in June, 1992 and then on to his CGC in October, 1992. He was a true boxer to the end. Everyone loved him, and would look for him at shows near the group ring escorted by his forever friend and companion Anji.


---
CD May 1992
Illinois Capital Kennel Club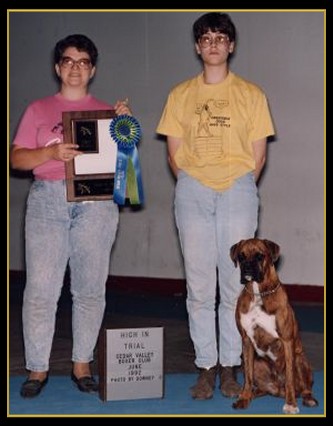 High In Trial June 1992
Cedar Valley Boxer Club
back